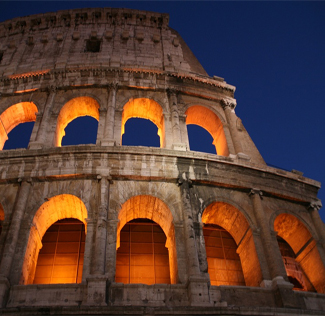 Rome Tours
Visit Rome and see the best places to see
There is a lot to be seen in Rome. The city was indeed the centre of the Roman Empire. It was also centuries later one of the most important centre of the Renaissance. Today the city hosts an independent city-state: The Vatican - Home of Roman Catholic Church. The prominent tourist attractions are: Vatican museums, St Peter's Basilica, the Piazza del Campidoglio by Michelangelo, the Sistine Chapel and the Colosseum.
Visit Rome:
Vatican Museums, Sistine Chapel, St Peter, Colosseum, ...
The best selling tours in Rome are : Ancient Rome and Colosseum Half-Day Walking Tour and Vatican Museums and St Peter's Basilica guided visit.
Places to see & things to do in Rome
Best places to see - Ancient Rome: Roman Forum, the Pantheon, Trajan's Column and market, the Catacombs, the Circus Maximus, the Baths of Caracalla, Castel Sant'Angelo, the Mausoleum of Augustus, the Arch of Constantine, the Pyramid of Cestius, and of course the Colosseum.
Best places to see - Renaissance period: The Piazza del Campidoglio by Michelangelo, the Palazzo Senatorio, the Palazzo del Quirinale, the Palazzo Venezia, the Palazzo Farnese, Barberini, Chigi, Spada, della Cancelleria, and the Villa Farnesina.
Other places to visit - not to be missed: Villa Borghese, Villa Ada, and Villa Doria Pamphili
This page of our website is dedicated to Rome tours reservation. With Airport-shuttle-reservation.com you can do all at once : book a tour, a shuttle or a hotel downtown Rome. Photo © Pacodecai