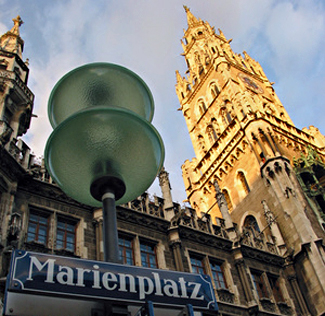 Munich tours
Visit Munich: Best places to see & things to do
There is a lot to be seen in Munich. Wander in the charming pedestrianized medieval streets around Marienplatz and visit the Peterskirche (The oldest church of the city) and The Frauenkirche (May be the most famous building in Munich). Also see Konigsplatz, and Odeonsplatz, visit the Nationaltheater and the Deutsches Museum... And of course don't leave without having a beer at The Hofbräuhaus am Platzl - The most famous beer hall worldwide... Please review our selection of the best city tours in Munich.
Visit Munich:
Marienplatz, Frauenkirche, Hofbräuhaus, Oktoberfest
The best selling tours in Munich : Neuschwanstein and Linderhof castles day tour from Munich, Dachau concentration camp, Dinner at Hofbrauhaus, ...
Places to see & things to do in Munich
Best places to see and great things to do in Munich: Royal Munich with Konigsplatz (Munich's Acropolis), the imposing Odeonsplatz, the picturesque royal gardens, the Englischer Garten, (Said to be Europe's largest city park), Chinese Tower beer garden, banks of the river Isar. And of course visit the Old Town with Marienplatz, Peterskirche and Frauenkirche. Have a beer at The Hofbräuhaus am Platzl...
Also not to be missed: The Oktoberfest - For two weeks the world renowned event attracts millions of people visiting beer tents... If you plan to visit Munich in October you'd better book your stay in advance ! Bayern Stadium.
Munich surroundings: The former Dachau concentration camp is 16 kilometres outside the city, Royal Castles of Neuschwanstein, Hohenschwangau and Linderhof, Salzbourg, Nuremberg, ...
This page of our website is dedicated to Munich City tours reservation. With Airport-shuttle-reservation.com you can do all at once : book a tour, a shuttle or a hotel downtown Munich. Photo © Dean Cosgner