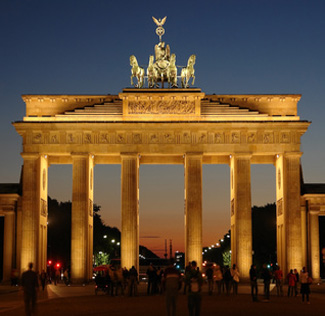 Berlin city tours
Visit Berlin: Best places to see & things to do
There is a lot to be seen in Berlin. May be the best way to indulge yourself into the unique atmosphere of the city is to walk (or bike) through its lively streets and squares. The prominent attractions are: Alexanderplatz and Postdamer Platz, Brandenburg Gate (Icon of the city), Schlossstrasse and Friedrichstrasse for the charme of Old Berlin and of course Schloss Charlottenburg. The city also counts more than 170 museums ! Please review our selection of the best tours.
Visit Berlin:
Alexanderplatz & Potsdamer Platz, Schloss Charlottenburg, Brandenburg Gate, Friedrichstrasse, ...
Best selling tours in Berlin : Please review our selection of guided city tours.
Places to see & things to do
Best places to see and great things to do in Berlin: Alexanderplatz and Potsdamer Platz, Museum Island, Checkpoint Charlie, the Wall ruins, Hitler's bunker, Deathstrip watchtower, Brandenburg Gate, Spree River and Tiergarten Park, Gendarmenmarkt, Friedrichstrasse and Schlossstrasse. But also Checkpoint Charlie for the memories of a once divided City, Berliner Dom, Schloss Charlottenburg, Saint Marien-Kirche and Berlin's Oldest Building: The Zitadelle. Also not to be missed in surroundings: Potsdam and Sanssouci Palace.
This page of our website is dedicated to Berlin City tours reservation. With Airport-shuttle-reservation.com you can do all at once : book a tour, a shuttle or a hotel downtown Berlin. Photo © Eisher