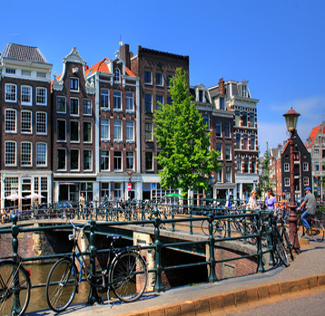 Amsterdam Tours
A romantic evening cruise by candlelight in Amsterdam? Float down the enchanting canals with illuminated mansions, gables and churches to admire. Relax to soft music wafting throughout the candlelit launch as you watch this sparkling city. Enjoy samples of fine wine and local cheeses. A breathtakingly beautiful night! ... Marvel at the highlights of Amsterdam where modern markets, cosmopolitan lifestyles and traditional diamond factories mingle with windmills, canals and graceful old buildings to create an unforgettable atmosphere.
Places to see in Amsterdam
Allard Pierson Museum Amsterdams, Historisch Museum, Bijbels Museum, Diamond Museum, Foam Photography Museum, Hermitage Museum, Huis Marseille, Molen van Sloten, Museum Armstelkring - Our Lord of The Attic, Museum Het Rembrandthuis, Museum Het Schip, Museum Van Loon, Museum Willet-Holthuysen, Nederlands Scheepvaartmuseum Amsterdam, De Nieuwe Kerk, De Oude Kerk, Rijksmuseum, Stedelijk, Museum De Lakenhal, Stichting de Appel, The Amsterdam Dungeon, Theatermuseum, KIT Tropenmuseum, Van Gogh Museum, Dutch Resistance Museum, Houseboatmuseu, The Amsterdam Diamond Group, Holland Casino, Holland International, Rederj Noord-Zuid, Ajax Arena Tour, Boom Chicago Shows, Canal Bus, Holland Experience 3D Movie Theatre, MacBike, Madame Tussauds Amsterdam, Museumboat, Flower market.
This page of our website is dedicated to Amsterdam tours reservation. With Airport-shuttle-reservation.com you can do all at once : book a tour, a shuttle or a hotel downtown Amsterdam. Photo © ExtravaganT